4 Best Shopify Landing Page Builders To Sell More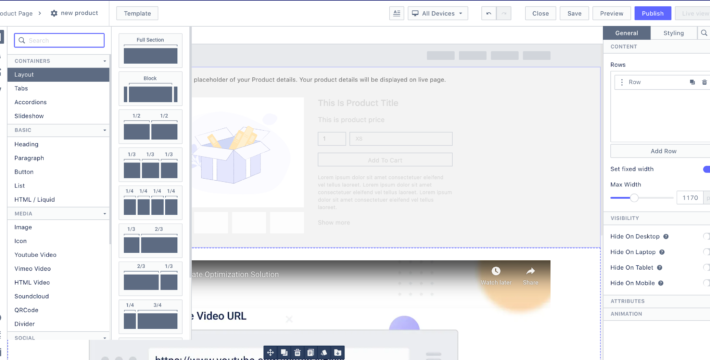 Starting your Shopify journey can be exciting.
You love that tingling sensation running through your veins, when you start your free trial, when you choose your first theme, and when you add the first products.
However, the honeymoon phase will soon come to an end, and you'll run up to a rather slightly more disheartening but no less crucial part: how to make your store look better–at least like in those Shopify ads you have been seeing–or more importantly, how to convert and get sales. Shopify is great, but its customization options can be limiting.
Naturally, you will come to a stage where you realize you kinda need a Shopify Page Builder app, a third-party plugin that empowers you with more extensive features, compared with Shopify's default page builder.
However, there are a bunch of on the Shopify App Store. You can either test all of them them, which will gobble up your valuable time and leave you exhausted by the time you burn out your last drop of energy on testing each feature.
Or, you can go through this detailed comparison, and narrow down your testing subjects to one or two apps only. Let's dive in.
What You Need To Look For When Choosing A Page Builder App
A good page builder–meaning a page builder that is not just be able to help you build a basic Shopify store, but also scale as your business grows–needs to have these essential features:
Drag-and-drop page building.
Extensive library of elements.
Compatibility with other essential apps (e.g. upsell/cross-sell apps, review and social proof apps, subscription apps, translation apps and marketing apps).
Advanced editing with custom code.
Seamless Shopify-format interface.
SEO-driven.
With these essentials in mind, we have dived into 4 of the best Shopify Page Builder apps, installed and used them to build a Product Page and a Collection Page. Here are what we like and dislike about each of them.
PageFly enjoys a strong 4.9 rating from over 4,200 paying customers – and consistently gets selected in Favorite Shopify Apps, or Staff-pick collection on Shopify App Store. So what's good and what's not good about it?
Rating: 4.9/5 with 4,201 reviews
Pros:
Powerful customization capacity, initially built by developers for developers (or at least people with background in development), PageFly has impressive customization powers. For example, there are more than 3 combinations of elements/features we could use to create a Product Details section.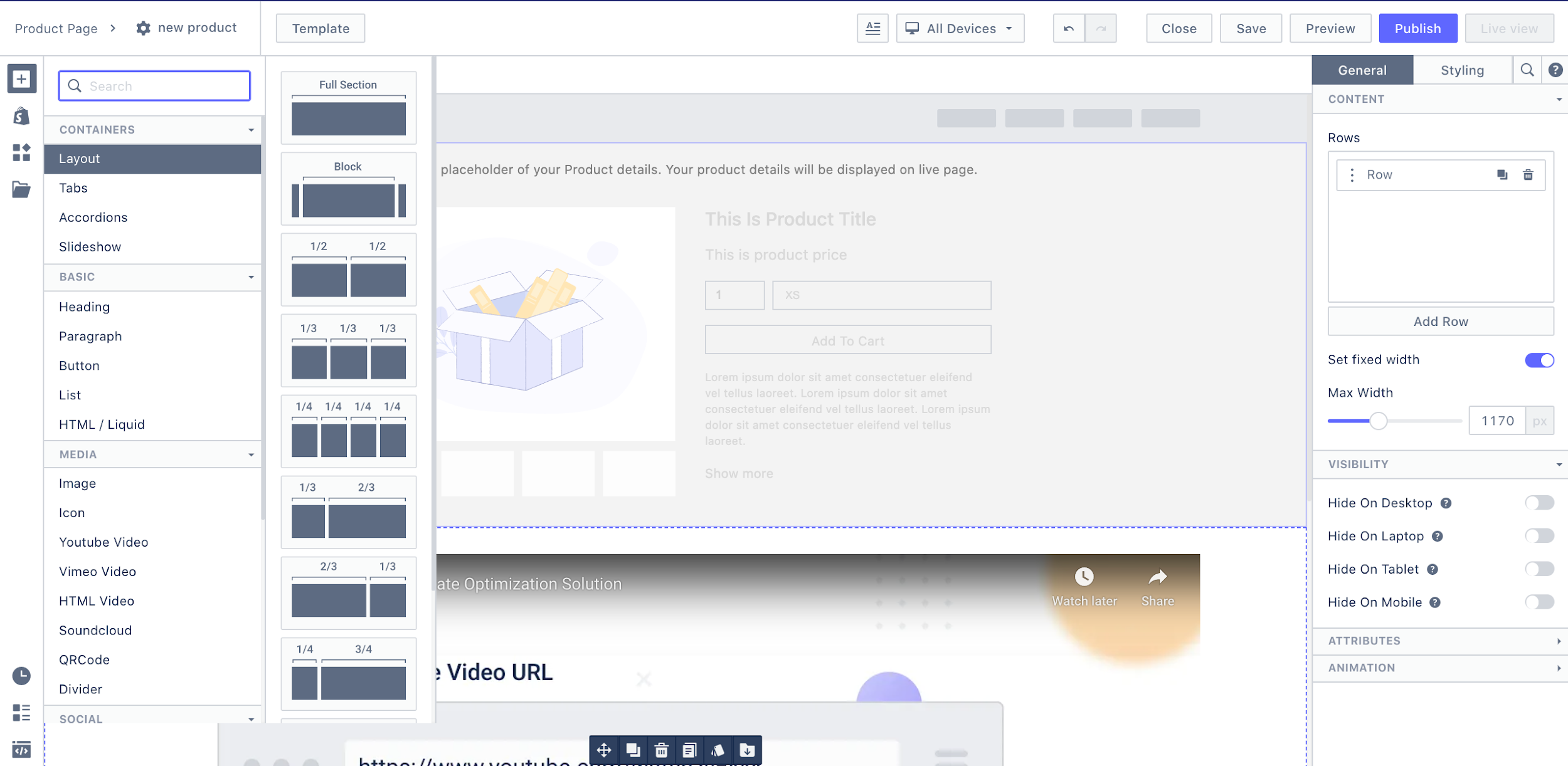 Extensive library of elements, pre-built sections and 3rd party elements/app integration. 40+ Templates for most industries and functions.
Advanced Customization with Custom Code editor and HTML/Liquid elements.
Dedicated, 24/7 live chat support, even on the Free plan.
Good compatibility with most Shopify themes.
Free plan available with full access to all features, the only limit is the number of pages you can create.
Clean and optimized codes for better loading speed – pages built with PageFly have slightly better page speed than those built with default Shopify Page Builder.
Available in 6 major languages: English, French, German, Portuguese, Chinese, Japanese.
PageFly also has their own analytics dashboard making it easier to track your store performance.
Cons:
The above-mentioned customization capacity is a two-edged sword. Since there are too many ways you can use to build layouts, new users (like me) can easily get confused browsing for the right element, or the right course of action to build, for example, a simple product page.
No A/B testing feature, no color swatches (you'll find this one feature incredibly important when building a good, interactive product page), no auto-save.
Compatibility with translation apps could be better. Some of the pages built with PageFly are not translated properly due to app conflict.
Mobile responsiveness needs improving, like a lot. You can design in All Devices mode, but when switching to other devices, like mobile and tablet, the design can get slightly jumbled.
Pricing:
PageFly's price range is mid-tier among all page builder apps, if you're building a one-product Shopify store, the Free plan is good enough. However, if you have a growing Shopify store – you can greatly benefit from the Platinum plan.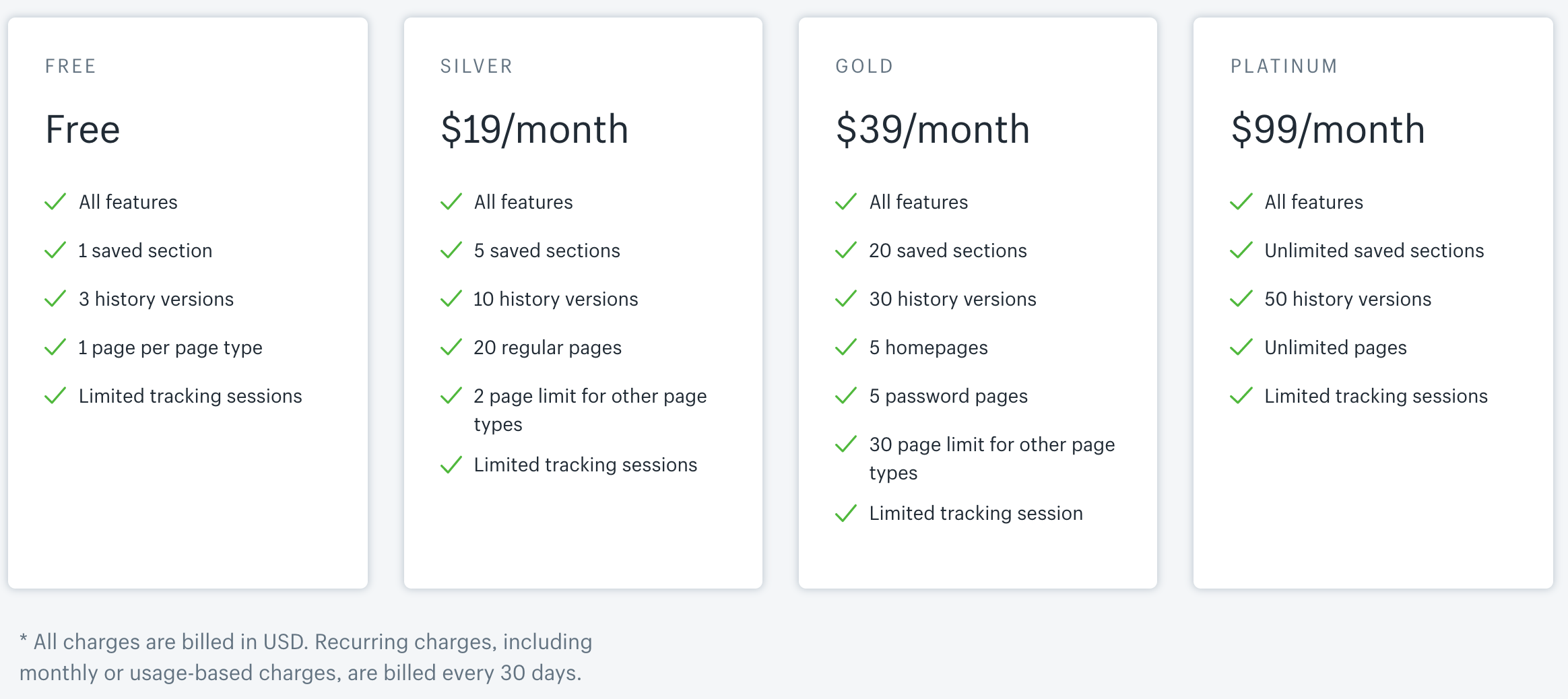 The name itself is pretty self-explanatory: It's a hub of premade layout and templates. LayoutHub uses block templates to build your store, so it might be more adequate for smaller businesses and those who are new to Shopify in general. Imagine Canva, but for Page Building business.
Rating: 5/5 with 985 reviews
Pros:
A large library of premade, nicely designed block templates for most sections you'll need – whether it's a Call To Action, Product List, Newsletter, etc.
Good compatibility with most Shopify themes and apps.
User-friendly interface and layout.
Good and dedicated live chat support–the support agent stayed with me until the problem was resolved–such dedication deserved a mention here.
Free plan available.
Autosave feature, which is very important when you build your store and some of the mentioned Page Builder apps here lack of, is available to all paid plans.
Cons:
Device responsiveness can be a hit or miss. Most of the time the design adapts nicely when switched to mobile or tablet, but there are occasions where a button or image is displayed at the wrong place, or with the wrong styling.
Free plan is available, but with limited layouts and email support, with non-removable branding, which is not bad but when you compare to free plans from other apps, the benefit might come off as slightly inferior. For example, in the same category, PageFly's free plan offers live chat support and access to all templates and features.
Pricing:
As mentioned above, LayoutHub's pricing is reasonable for smaller businesses, and their price range is the lowest among all page builder apps.
Recently securing a $35 Million Series B from Silicon-valley accelerators and ventures, Shogun is growing fast and constantly improving their Page Builder product, which is currently one of the top-rated apps on both Shopify and Magento.
Rating: 4.8/5 with 2,284 reviews
Pros:
Robust element library, categorized and arranged within a user-friendly interface. It has the most user-friendly interface among all reviewed apps in this article.
Optimized for good page speed.
Advanced customization: You can create your own element on Shogun.
A/B Testing and Page Publishing Scheduling available.
Color gradient available for all elements (this particular feature is mentioned as color gradient is not available within the other page builder apps).
Intuitive and easy-to-use Onboarding dashboard.
SEO-controls available.
Cons:
Live chat is available only with the highest-paid plan, so if you're on the other paid plans, it can get slightly frustrating waiting for email support.
There is no free plan, only a 10-day free trial period.
Similarly to PageFly, mobile responsiveness is not 100% perfect and leaves a lot to be desired, there is definitely room for improvement when it comes to adapting to other devices.
Pricing:
Shogun's price range is the highest among all page builder apps – which makes sense since it has the most extensive feature and element library.
The last of the Big Four when it comes to page building is GemPages. Similarly to PageFly and Shogun, GemPages has been trusted by nearly 10,000 customers to help them build a high functioning Shopify store.
Rating: 4.8/5 with 1,975 reviews
Pros:
50+ pre-made templates catered to every industry and purpose: Lead Generation/Capture, Click Through, Waiting List & Coming Soon, Discount & Coupon, Contest & Giveaway, Thank You & Confirmation, Storytelling.
Constantly improving themselves. You can expect the following features from GemPages in a near future: A/B Testing, Agency Mode, Autosave & Versioning, Animation & Actions, Password & Error 404 Pages, Layer Manager, Content Scheduling, Analytics, Funnel Builder, Post-Purchase Upsell, AMP, PWA
Good compatibility with most Shopify themes, however, you can see minor conflict here and there, this is why GemPages recommends users to use its own theme: eComSolid.
Live chat support available with dedicated and professional support agents.
GemPages also comes with a number of standard "mini-apps" that add dynamic elements to your pages.
Cons:
No free plan available.
Live chat support is only available to Professional and Advanced users, and getting help from email support on Starter Plan can really get on your nerves.
Third-party app integration is not so great, this is also partly the reason why GemPages has these little built-in mini apps.
It works best with eComSolid Theme, so it might not be a good thing depending on your preference.
The Onboarding dashboard looks a bit too clustering with too many notifications.
Pricing:
The lowest plan with limited features will cost you $15 monthly, while its highest plan is reasonable, considering all features and benefits Gempages provides, and in comparison with other higher-priced apps like PageFly and Shogun.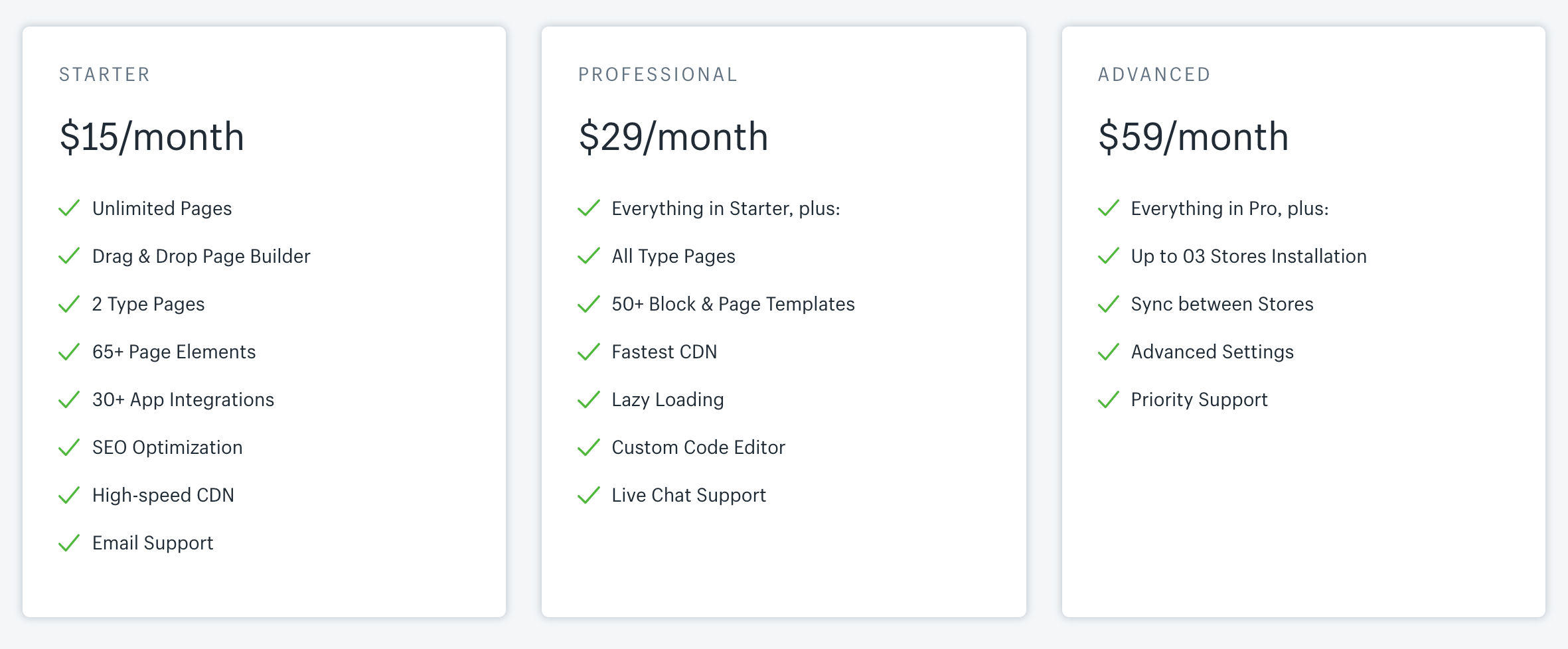 In conclusion, which Shopify Landing Page Builders should you use?
We could end with an uninspiring: "All of these Shopify Page Builder apps have something to offer to your Shopify store and only through trial and error can you know exactly which one works for you".
But we would not honor our promise to help you decide.
If you have a small Shopify store selling to the local communities, go with LayoutHub.
If you have a growing e-commerce business and aim to sell globally, or at least nationally, go with PageFly or GemPages.
If you're a Shopify Plus merchant, with need for advanced or higher customization, and having a budget to spend, Shogun should make you happy.