Is It Possible to Succeed in eCommerce Today: Interview with George Hogan
Hello, guys! Do you like to listen to interesting stories with happy ends? We don't mean fairy tales of course. Surely you do. So, grab your favorite beverage and snack and continue reading. We are having George Hogan from Mexico here and he is ready to share his personal story of eCommerce success with us.
This kind of interviews with real people can be rather inspiring and help the most hesitant of us make the first step, then another one, and finally break through the routine life cycle and become a freer, confident, and well-off entrepreneur.
So, let's start.
Hello, George, thanks for coming, we are really happy to get to finally meet you.
George: Hi, it's a pleasure. I am always open to conversations like this because I remember myself when I was only thinking about starting my own eCommerce business. I can describe my state of mind and soul like "pins and needles". I was thirsty for reading success stories of other people as they gave me confidence. But I couldn't remotely imagine that someday my own story would encourage other merchants to step into the eCommerce game.
Ok, George, could you tell us something about yourself. How long have you been in the eCommerce business?
George: Well, I have a University degree in computer science. I am 37, married, have two sons, but I don't think anybody is really that interested in my personal life. As to my career, to put it simple, I was assembling and maintaining computer systems for some company before plunging into eCommerce. I have been running my own business for 10 years already. What else am I doing now? I drink tea ;), which is my favorite beverage, by the way, travel a lot, conduct trainings for startuppers, and do spiritual practices.
How have you created Templates.com? Did you design it yourself, ordered a custom design, or used a pre-made template?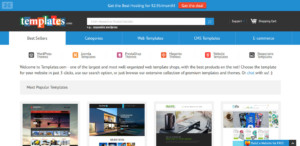 George: In fact, everything was simple. I made a research and found out that ordering a custom design would be way more expensive than using a ready-made template. Besides, it's much easier to make your pick when you see the final result before paying any money. Let me explain. The benefit of using a template is that you see how your future website will look and perform right on the provider's demo pages. So, after checking various possibilities I settled on TemplateMonster.
They had a very good choice of eCommerce templates powered by different popular engines (MotoCMS, Shopify, Magento, OpenCart, Prestashop and others). It was not difficult to set up my e-shop because all of the templates came with extensive documentation and 24/7 support that is really available for you any time and very helpful solve your issue very quickly. Actually, if you don't know much about web development, just replace the default content with your own and you are ready to go.
How long did it take you to get first results (sales and clients)?
George: When you start an online store, you should be patient. Sales and clients don't come immediately. In my case it took a couple of months to get the first results.
Do you cooperate with any theme and template vendors?
George: Yes, I ended up partnering with TemplateMonster. They are reliable, experienced, and are running lots of educational projects, like their certification course, which are a great way to learn from them for free.
Please share a few words about your eCommerce strategy, anything that can be shared, of course.
George: An eCommerce strategy can't be described in a few words, of course, but I'll make a try. What you definitely need is an excellent call-to-action, competitive prices, a user-friendly interface that doesn't confuse or scare away the customers, and a comfy shopping cart (because a lot of clients otherwise don't complete the purchase at the last stage).
Who is the most important in the web service staff chain: outreacher, sales-guy, web-designer, SEO-guy, or maybe anybody else?
George: All of them are important, but your chain lacks the client. It's my strong belief that everything rotates around the customer and making them happy. Sales-guys professionalism is crucial as well. They should know the strong points of all products that are being offered and be able to help the customer make the right choice.
Can you share examples of your projects made using TemplateMonster templates?
George: At present I have only one project launched with the help of TemplateMonster—it's templates.com.
Did you use social mediamarketing? How did social networks help you achieve better results?
George:It's really difficult to overestimate the role of social media marketing nowadays. It would be bat-eyed not to use its possibilities. I regularly post adds, info about discounts and special offers, fun content, and just communicate with the community on social networks. Social networks not only help to draw new customers, but most importantly to get to know your audience better and learn a lot on how you can address their needs.
You have been in the online business for a long time. When do you think was the golden period for web design business?
George: I guess you are expecting that I'll say that the best time for doing business is now, but 5 years ago the competition was not as tough as it is today, the demand for templates was whopping, the customers were not so picky, and search engine requirements were not so severe.
What do you think will happen to the web design industry in the nearest future?
George: I believe that the industry will shift more and more towards SaaS solutions (Software as a service is a software licensing and delivery model in which software is licensed on a subscription basis and is centrally hosted). It is sometimes referred to as "on-demand software", and was formerly referred to as "software plus services" by Microsoft. SaaS is typically accessed by users using a thin client via a web browser. SaaS has become a common delivery model for many business applications, including office and messaging software, payroll processing software, DBMS software, management software, CAD software, development software, and much more. SaaS has been incorporated into the strategy of nearly all leading enterprise software companies.
Can you give a friendly piece of advice to all online money-makers?
George: Study your audience, listen to your audience. Gauge the loyalty of your company customer relationships with Net Promoter or Net Promoter Score (NPS) management tool. It serves as an alternative to traditional customer satisfaction research and claims to be correlated with revenue growth. NPS has been widely adopted by more than two thirds of Fortune 1000 companies using the metric. When you know your customers needs, pains, whatever, you can cater to their requirements better.
Thank you very much for sharing your personal experience with us, George. We wish you best of luck in your business.
Have more questions to George? Leave them at the comments section below.
Thinking of buying a template on TemplateMonster? Don't forget to use our exclusive coupon code TOP10ECOMMERCESOLUTIONS to get 15% off any order.